Important Tips on Paying Your Bill Online or Over the Phone
All customers must register for a new online account with RWU
If you have registered for an online account prior to 9/7/2022, then you will need to re-register by clicking the My Account button and clicking the Register link.
When Paying online or over the phone, use your 9 digit account number to access your account. 
If your bill still displays the 10 digit account number, remove the first digit.

example: if your account number is in this format, 1-23-45678-90, then enter it this way: 23-45678-90

If you are asked to provide the amount of the last payment, and you are a new customer, enter 0.00 for the last payment.
A new payment portal is coming 9/6/22.
This section will be updated regularly
Customers currently on scheduled autopay with Paymentus for RWU utility payments must re-enroll for payment to be drafted after 9/6/22. Existing scheduled payments with Paymentus will not be processed after this 9/6/22. Customers should either re-enroll in the new customer portal after 9/6/22 or enroll in RWU bank draft now. 
The new payment portal is unavailable until 9/6/22. RWU customers on auto-draft with RWU with a bank account will be unaffected. RWU will provide more information as soon as possible.
Understanding Your Bill
Rogers Water Utilities is proud to introduce our new and improved bill. Click the image below to enlarge.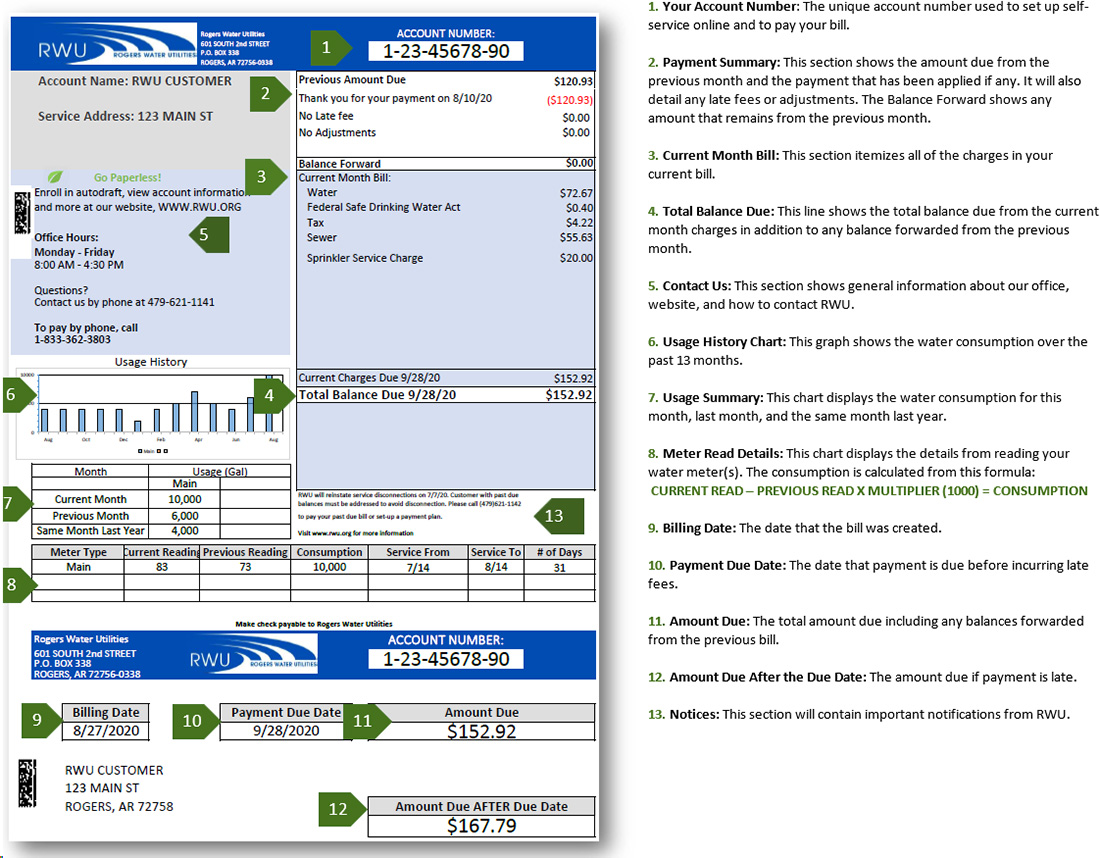 Enroll in Auto Pay - free!
With Rogers Water Utilities auto pay option, the payment for your water, sewer and trash will be automatically paid using your credit card or bank account. 
Pay your water/sewer bill automatically

 

Save postage

 

Never pay late

 

Reduce impact on environment

 

Free! 

 
You will continue to receive your bill in the mail unless you sign up for paperless billing. You can cancel this plan at any time. 
Enroll now! Click the button below and select "Sign in or Sign Up". You will need your account number and last payment amount. In the Account detail section, look for the "Manage auto pay" link. This is where you will update your auto pay information. 
Enroll in paperless billing
With our paperless billing option, you can: 
Securely receive your water bill in your email

 

Easily pay from within the secure email, or continue to use your current bill pay service

 
Conveniently pay Rogers Water Utilities with an electronic check, debit or credit card

 

Save time and eliminate the cost of checks and postage

 

Be more environmentally friendly by reducing paper waste

 

Have the option to return to regular billing at any time

 
Enroll now! Click the link below and select the "sign in or sign up" option. All you need is your account number and amount of your previous payment. 
Pay online
Quickly and securely make an online water bill payment. Select your method of payment each time you pay with the option of saving your payment method for convenience. 
You will need your account number and the amount of your last payment to make a one-time payment

 

You have the option of setting up an account and using a login for future

 

Available 24/7

 
Electronic check (ACH) - Use your checking or savings account

 

Credit Card

 

Debit Card

 
If you have questions, please call Rogers Water Utilities at 479-621-1142 
Pay by Phone
To use our automated phone payment system, simply call our automated payment system at (877) 469-2524. Please have your account number and service address ready. 
Available 24 hours a day, seven days a week

 

Payment methods include: 

 
Electronic check (ACH) - Use your checking or savings account

 

Debit Card

 
Pay at the office
You can make payment in person at our office located at 601 S 2nd St in downtown Rogers. We offer walk-in service as well as drive-through service.
Please have your account number or address ready
Available 8:00AM - 4:30PM Monday - Friday
Payment methods include:

Cash
Check
Debit Card
Credit Card
What if my account is past due?
Life happens and so do hardships. We can help! We offer payment extensions and arrangements. Additionally, a partial payment is better than no payment and may keep the water on. To discuss your options, please call us at 479-621-1142 or stop by the office during normal business hours: 8:00AM - 4:30PM Monday - Friday