Rogers Water Utilities
Established in 1881, Rogers Water Utilities is committed to preserving the public health and the environment of the City of Rogers, Arkansas. Our employees are highly trained and service oriented. We want to serve all our customers in the most efficient, courteous manner possible. At Rogers Water Utilities, we realize we serve at the pleasure of our customers, and exist solely because of our customers. We not only sell water; we provide service to our customers, clients, and stakeholders. All the potable water you need delivered to your home or business, on demand, is our critical mission. Making your used water and wastes disappear is our continuous goal.
A water utility is more than pipes, tanks, computers, and processes. Our people are our most important assets. Most of our team members are certified by the State of Arkansas to operate water and wastewater systems. If you have a question about your bill or the service we provide, Rogers Water Utilities should be your primary contact. We are here to help you!
The Rogers Water Utilities (RWU) operates and maintains the public water and sewer systems in Rogers, Arkansas. RWU is governed by the Rogers Waterworks and Sewer Commission. Being municipally owned, we work closely with other City of Rogers agencies. However, RWU is completely rate supported, receiving no tax revenue. RWU funds are maintained separately from the funds of the City of Rogers.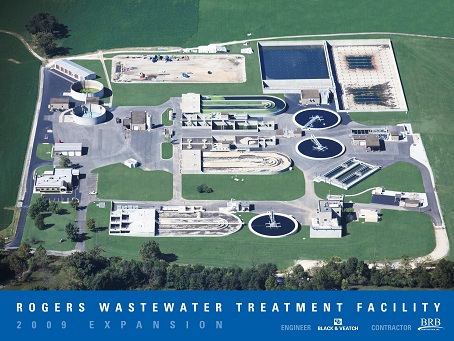 RWU funds are used to operate and maintain the water and sewer system in Rogers in a manner consistent with good government and good business. Officially, RWU is a non-profit organization. All proceeds in excess of expenses are held in funds in local banks until such time as they are needed for any lawful purpose. The Commission needs only to go to the City Council to raise water and sewer rates, or to borrow money.
RWU exists as two separate accounting entities: the Rogers Water Department, and the Rogers Sewer Department. In reality, RWU operates both departments in a fully integrated matter, in as much as both departments are closely linked. There are four separate sections within RWU:
Customer Service: Operates the business office, responsible for accounting and personnel functions. This section reads the meters and responds to service requests.
Field Operations: Operates and maintains the water distribution and sewer collection system, including storage tanks and pump stations.
Engineering: Oversees all new construction, reviews plans for additions, and prepares plans and specifications for water and sewer additions.
Rogers Pollution Control Facility: Treatment and disposal of wastewater and biosolids.
The Rogers Waterworks and Sewer Commission
The Commissioners are qualified electors of the City of Rogers, appointed by the Mayor of Rogers, and confirmed by the Rogers City Council. There are four Commissioners, appointed for eight-year terms. For continuity, the terms of the different Commissioners are staggered. Currently, the Commission is composed of the following:
Kathy McClure
Peter Farmer – Chair
Travis Greene
Jerry Carmichael
Paige Sultemeier
The superintendent of Rogers Water Utilities serves as the acting secretary of the Commission. Persons wishing to appear before the Commission should contact a Commissioner or the Manager. Commission meetings are held monthly, usually on the third Monday of each month.
Commission Meeting Minutes
Click on a date in the table below to view the minutes of that meeting.
Rogers Water Utilities Audit Reports
2022 Water Department Report
2022 Sewer Department Report
2021 Water Department Report
2021 Sewer Department Report
2020 Water Department Report
2020 Sewer Department Report
2019 Water Department Report
2019 Sewer Department Report
2018 Water Department Report
2018 Sewer Department Report
2017 Water Department Report
2017 Sewer Department Report
2016 Water Department Report
2016 Sewer Department Report
2015 Water Department Report
2015 Sewer Department Report
2014 Water Department Report
2014 Sewer Department Report
2013 Water Department Report
2013 Sewer Department Report
2012 Water Department Report
2012 Sewer Department Report
2011 Water Department Report
2011 Sewer Department Report
2010 Water Department Report
2010 Sewer Department Report
2009 Water Department Report
2009 Sewer Department Report
Water Quality Reports
2022 Annual Drinking Water Quality Report
2021 Annual Drinking Water Quality Report
2020 Annual Drinking Water Quality Report
2019 Annual Drinking Water Quality Report
2018 Annual Drinking Water Quality Report
2017 Annual Drinking Water Quality Report
2016 Annual Drinking Water Quality Report
2015 Annual Drinking Water Quality Report
2014 Annual Drinking Water Quality Report
2013 Annual Drinking Water Quality Report
2012 Annual Drinking Water Quality Report
2011 Annual Drinking Water Quality Report
2010 Annual Drinking Water Quality Report
2009 Annual Drinking Water Quality Report
2008 Annual Drinking Water Quality Report
Beaver Water District (BWD)
Located east of Lowell near Beaver Lake, BWD is the water wholesaler to the cities of Rogers, Bentonville, Fayetteville, and Springdale. BWD is operated under the authority of the Beaver Water District of Washington and Benton County Board of Directors, who are elected to eight-year terms. BWD sets the rates for wholesale water. Currently, the wholesale rate for water is $1.38 per thousand gallons. If you have technical questions regarding water quality or water treatment processes, BWD may be contacted at 479-756-3651.